An Emcee's Perspective from the TEDx Red Dot
Kicking off the day as Emcee on the TEDx Red Dot. If you didn't know about the Red Dot, now you know! Photo Credit: Shannon Atkinson
What this post is really about
This article is not about the details of my day emceeing a TEDx event, however I'll take a moment to mention that it was one of the best days of my professional life. Instead, the focus of this post is how my perspective transformed from initially being resentful for my involvement in the event to being supremely grateful for the opportunity. Don't worry, I'll provide visual evidence of my costume change. I transformed from a caterpillar to a cocoon to Lady Gaga and connected it to the theme of the event.
Starting as a caterpillar. Photo Credit: Shannon Atkinson
Transforming from caterpillar to a cocoon. You may notice the butterfly wings strapped to my back. Photo Credit: Shannon Atkinson
Expecting a butterfly? Along our journey of transformation, we can change in ways we don't anticipate (ie. Lady Gaga) Photo Credit: Shannon Atkinson
Here we go…
Dreams of giving my own TED Talk
My first encounter with a TED Talk was when a friend introduced me to Brene Brown's (now famous) "The Power of Vulnerability" in 2012. Since then, I've desired to do my own. The thought of having a message so powerful, yet concise (max 18 minutes) to an audience eager to drink up a mind blowing, disruptive idea sounds like a dream come true to me. Over the years, I have facilitated thousands of hours to rooms of 3 to 2000 attendees from front line workers to senior executives. All the while, my desire to give my own TED Talk has grown. Unbeknownst to me, my journey of speaking in front of people has been helping me shape my message to share on the TED Red Dot one day.
How TEDxOchsner came about
I am an officer for our Young Professionals Association (YPA) which is a Resource Group at Ochsner, where I work. Think of it as a professional association that lives within the organization. It's completely voluntary and an additional role outside my actual job. Our YPA president had the desire and passion to lead the forge in hosting a never-been-done TEDxOchsner event. TEDx is an independently organized TED event. You must apply and gain approval for a license, follow certain criteria, and stay within the boundaries of TED rules and regulations. Although, the organization owns the ins and outs of the event, from creating a speaker application form, to establishing the speaker selection process, budgeting, booking the venue, catering, exhibitors, lights, AV, sound and audio, and don't forget registration and marketing the event to get butts in seats and any teeny tiny details (and trust me there are 100 million more than anyone anticipated) that go along with running a full day conference-like event.
Disappointment and resentment set in
I was initially reluctant to involve myself in such an undertaking because the projects and responsibilities on the plates of my small team (for my real job) were hefty for the next year. I grudgingly indicated my acceptance in the planning process, mostly because I didn't want to appear like a slacker. Once I was knee deep in the process of obtaining a license, I discovered that being involved in planning, whether that be a day-of-event volunteer, member of the planning committee, or even snack deliverer, revokes the opportunity to throw your hat in the ring to apply to be a speaker. Upon learning this, my dreams of being on the TED Red Dot shattered before my eyes at the fine print. For someone like me who lives with the dream of being on the big stage, sharing my ideas, stories, and perspectives in the hopes of helping people think a different way is the driver behind all that I do. Following this newfound heartbreak, every time I received an email in my inbox regarding TED, my stomach sank. The message served as a piercing reminder that I am planning an event for other people to live out my dream (or part of the journey to my dream).
The Show Must Go On
The show must go on as they say, and I did my part to help make the event a success. Low and behold, my planning partners asked me to be the emcee. I was delighted, although, declined the offer because there would be countless moving parts on the day of the event and felt like I needed to step up and carry out my responsibilities. The committee pressed, indicating that, "You would be perfect for this role." There was no need to twist my arm and I accepted the position as curator of the event.
How my perspective transformed
The quality and quantity of ideas submitted from potential speakers were tremendous and I most likely would not have been selected as a speaker out of this bunch in the event that I had applied. The opportunity to serve as curator opened a whole new avenue for me. Emceeing unlocked a different type of public speaking which I've only tiptoed in (I was asked to emcee my friend's wedding, which is another blog post in itself). I drank up every single moment of being on stage, putting the focus on the speakers, audience, and performers. Every energizer tied back to the theme of Transformation and how it could translate into the day-to-day of the audience.
Not only was I fully present in the moment, 110% engaged, and my most authentic self, the audience enjoyed themselves too. Each of the incredibly thoughtful, fascinating speakers have all taught me something novel, whether from their Talk or through our newfound friendship. Without shifting my perspective to how my involvement in the TEDx event awarded me an opportunity to connect with others, use creativity, and open an unexpected door, I would still be dragging my feet and feeling resentful.
How do I apply what I know now? (I'm asking you)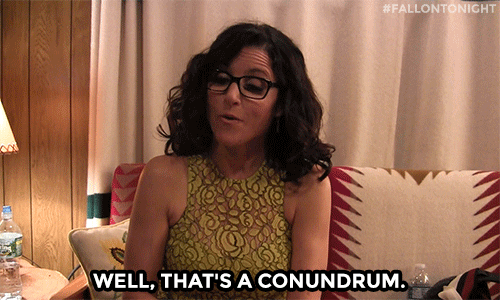 Have you ever felt like you are good at something and you've worked really hard in one area, but you're being called to explore another avenue? With that comes uncertainty, fear of the unknown, discomfort, and all the other scaries. How do you approach such an undertaking?
Now that I've had more of a taste of being successful as a speaker in the spotlight (I have testimonials, I promise), and I've got this knack for solving challenges of people and processes through my work as a consultant and coach in talent management and organizational development, how or can I pair the two? Or does this mean its time to explore a whole new road? How do you know what's the next right step?
More pictures of the event!
TEDx Planning Committee and Volunteers
A few Talent Management team members.
PowerPoint Karaoke with the caterpillar and audience volunteers.
Backstage with Ochsner CEO and President, Warner Thomas.
Me on the Red Dot.
#TEDx #TEDxOchsner #TEDTalk #BreneBrown #transformation #employeeengagement #emcee #host #mc #ochsner #reddot #tedxreddot #perspectives #perspectives2020 #AlyciaAngle #curator